DGM Side Event at the UN Permanent Forum on Indigenous Issues
DGM Global cannot guarantee the accuracy of Google translations. In case of discrepancies, the original language takes precedence.
Indigenous peoples participants from Asia, Africa, Latin America and Russia at the United Nations Permanent Forum on Indigenous Issues attended a side event hosted by the DGM titled "Illustrating how direct funds governed by IPLCs can contribute to adaptation, mitigation, and conflict resolution" at the UN Headquarters in New York City on May 13, 2016.
The DGM Global Steering Committee (GSC) Co-Chair from the Philippines was present alongside one of the DGM GSC representatives from Peru, and the Director of the DGM Global Executing Agency (GEA). Together, the three presented the objectives and status of the DGM at the international level and at the country level through the example of Peru.
The Co-Chair presented the history, objectives, governance, and implementation structure of the DGM as a unique example of direct financing for Indigenous Peoples and Local Communities (IPLCs) in the domain of climate finance. The representative from Peru presented an overview of the progress and challenges encountered in establishing the Peru DGM country project, which along with the DGM Brazil country project, is one of the first two projects to launch on-the-ground activities. In Peru, the first call for proposals led by indigenous peoples in the Amazon to receive sub-grants to fund activities for land titling has recently finished, and sub-grantees will be finalized soon.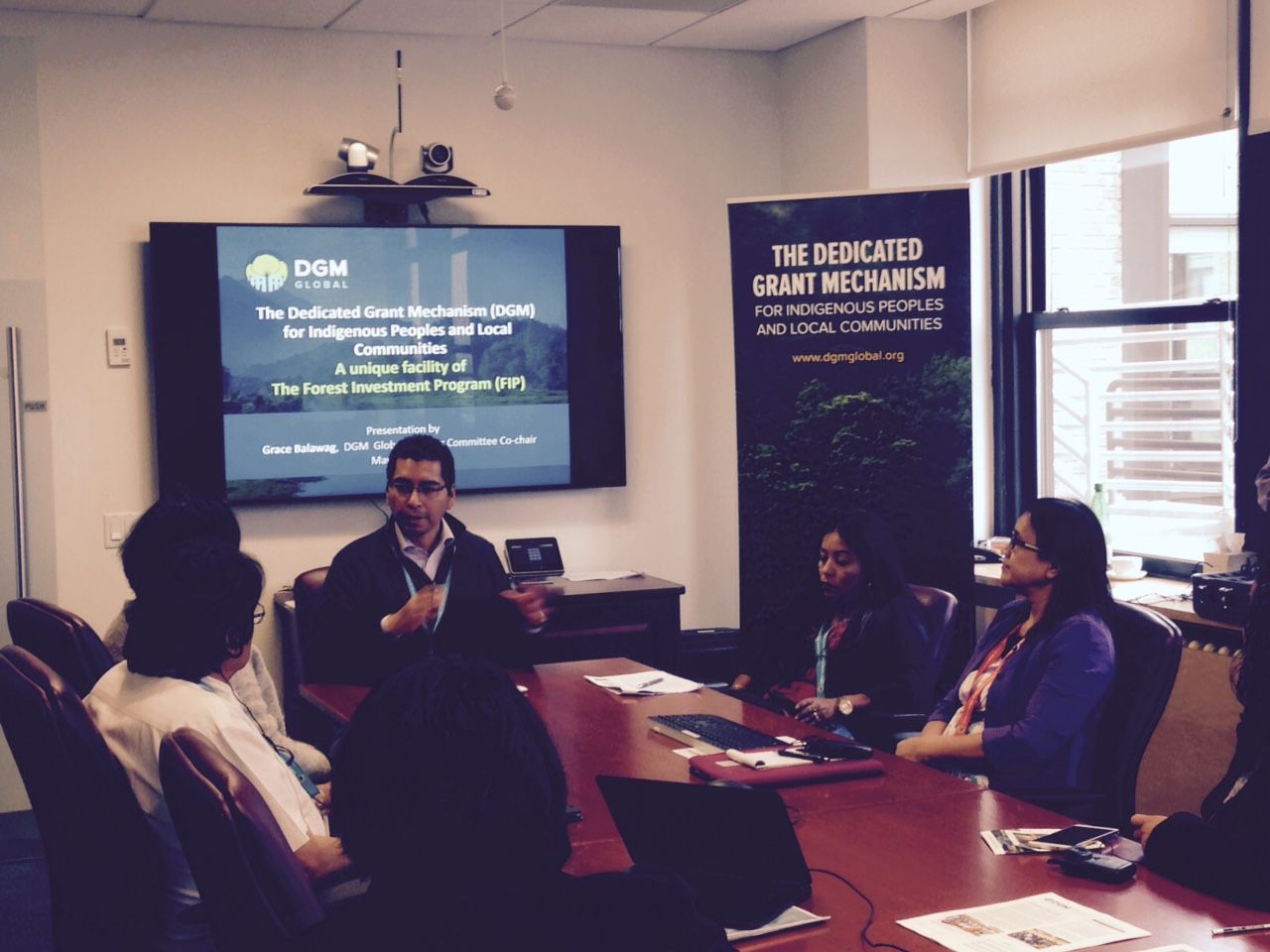 The participants raised questions on the consultation process for the projects as the funds come from the World Bank, and the Peru representative explained that in Peru they have proposals that are prepared and requested by indigenous peoples and they implemented their own consultation systems. A woman of Maya people emphasized the need to include elders in the communications process of DGM. Maria Eugenia Choque one of the experts of the Permanent Forum called to work towards an international standard for consultation processes which includes free prior and informed consent (FPIC)..
Presentations were followed by a discussion, led by the GEA Director, to explore topics that could be important to exchange in regional trainings in Latin America, Asia, and Africa; participants from Honduras and Nicaragua stated that they can share with DGM their experience on territorial governance and community bio cultural protocols. The session closed with the emphasis that, in the words of the Co-Chair, the DGM is designed by IPLCs for IPLCs, and IPLCsstrongly negotiated the DGM with the World Bank as a pilot and example of how direct financing can increase the participation and contributions of IPLCs.
Posted by the GEA.