DGM process advances in Mozambique
DGM Global cannot guarantee the accuracy of Google translations. In case of discrepancies, the original language takes precedence.
(português segue abaixo)
Provisional National Steering Committee of the DGM Mozambique holds second national meeting
On March 30-31, 2016, 17 representatives from Mozambique's civil society gathered in the northern city of Pemba, for the second meeting of the country's interim National Steering Committee (NSC) of DGM. This workshop was an important milestone to bring the DGM process forward in Mozambique; as it is a platform to share and discuss what incentives and opportunities are most important and desired for forest dependent communities in Mozambique to improve forest management and their livelihoods.
In Mozambique, over 70% of the population live in rural areas and are heavily dependent on forests and natural resources for their livelihoods. Our country's rich and dense forest and woodlands provide rural communities with numerous essential goods and services for communities' subsistence, cash income and cultural reasons.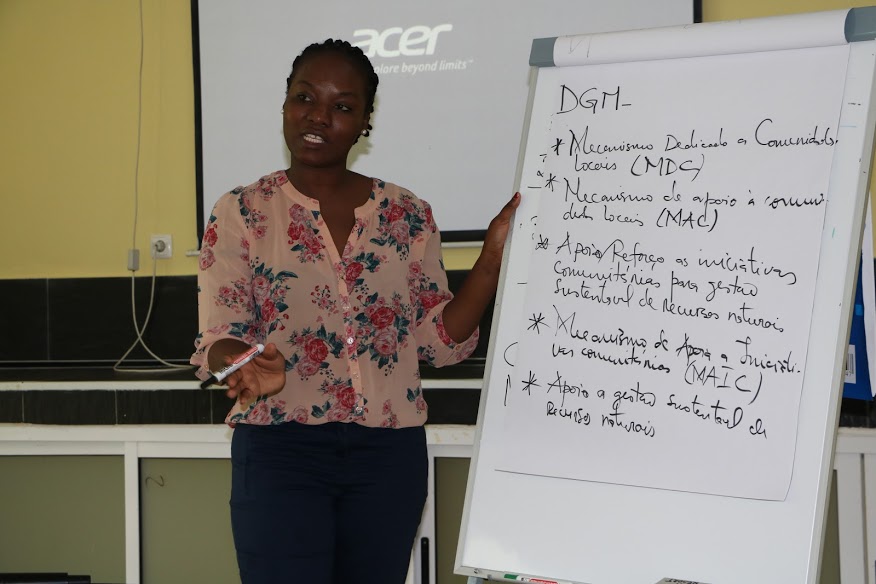 The interim NSC includes 15 representatives from the 3 regions of the country – North, Center, and South and is mostly represented by civil society organizations that work close with local communities. It was created after a three-month process of regional and national consultations that went on from August to November 2015 and convened more than 270 stakeholders from 10 (out of 11) provinces of the country. In addition to civil society, the interim NSC also includes observers from the government (Ministry of Land, Environment and Rural Development), private sector, representatives from the FIP Steering Committee and the World Bank as observer – all which were selected among civil society following the regional and national consultations.
The intense 2-day workshop included discussions on the desired objectives of the DGM in Mozambique as well as considerations for how to best establish the final NSC within the next six months including the choice of its members. In order to meet the ambitious goals of soon establishing the final NSC and working towards finding a suitable National Executing Agency (NEA), the Interim NSC are in the process of hiring an NGO or consortium of NGO to help operationalize the many tasks ahead.
"There are a number of strategic areas that the DGM could cover. For example, the promotion of income-generating activities for communities, promotion of non-timber forest products (such as fruits, honey, roots etc.) as well as conservation agriculture and other activities "said Daniel Maula, Director of RADEZA (Network of Organizations for Environment and Sustainable Development of Zambezia).
"We are committed to ensuring the participation of women in the DGM in Mozambique and to do this we would like for women to be well represented on the final NSC" said Pedro Ferreira, of MUGEDE (Organization for Women Gender and Development) .
Participants also discussed how Mozambique could learn from other countries that are currently preparing or implementing the DGM. Two events in particular were highlighted: participation in the Global DGM meeting in Kinshasa April 25-27 and a broader FIP/DGM south-south knowledge exchange to Brazil that is taking place in May 2016. Three representatives from the Interim NSC, along with two FIP Steering Committee members, government representatives and private sector will participate in this exchange, that focuses on learning more about everything from successful models of multi-stakeholder dialogues to the process of designing and implementing the DGM in Brazil, including its decision-making mechanisms, types of eligible activities, the functioning of its funding windows and desired results.
Building on the great work that has been done up until now, and as we conclude this workshop, it is important to remember that in order for DGM to be successful, the process going forward needs to continue to be as transparent and inclusive as possible. Because if managed well, DGM can have a transformational impact in helping to put Mozambique's local communities' needs at the forefront when designing initiatives to address deforestation and improve rural livelihoods.
It is with this responsibility and confidence in mind that we continue to lead the DGM process forward.
by the Interim National Steering Committee of Mozambique
Comité Nacional de Gestão provisório do DGM de Moçambique realiza segundo encontro nacional
Dezassete representantes da Sociedade Civil de Moçambique reuniram-se na cidade nortenha de Pemba, em Cabo-Delgado, entre os dias 30 e 31 de Março de 2016 para a segunda reunião do Comité Nacional de Gestão (CNG) provisório do DGM. Este encontro foi um marco importante para conduzir o processo do DGM em Moçambique. Este grupo de trabalho é uma plataforma para compartilhar e discutir quais incentivos e oportunidades são mais importantes e desejados para as comunidades que dependem da floresta. Assim, pode-se melhorar o maneio florestal e seus meios de subsistência.
Em Moçambique, mais de 70% da população vive em áreas rurais e depende fortemente das florestas e dos recursos naturais para a sua subsistência. As ricas e densas florestas proporcionam numerosos bens e serviços essenciais para a subsistência das comunidades rurais, renda e outros benefícios culturais.
O CNG provisório do DGM integra 15 representantes das 3 regiões do País - Norte, Centro e Sul e é representado principalmente por Organizações da Sociedade Civil que trabalham com as comunidades locais. Ele foi criado depois de um processo de três meses de consultas públicas regionais e nacionais entre Agosto e Novembro de 2015, tendo reunido mais de 270 actores-chave das 11 províncias do País, incluindo a Cidade de Maputo. Além da Sociedade Civil, o CNG provisório inclui observadores do Governo (do Ministerio da Terra Ambiente e Desenvolvimento Rural, MITADER), do Sector Privado (representantes do comite do FIP e governo) e do Banco Mundial, identificados durante as consultas públicas regionais e nacionais.
A reunião de 2 dias em Pemba incluiu discussões sobre os objectivos do DGM em Moçambique, bem como considerações para a melhor forma de estabelecer o CNG final dentro dos próximos seis meses, incluindo a escolha de seus membros. A fim de cumprir as metas ambiciosas de estabelecer logo este comité e trabalhar no sentido de encontrar uma Agência Nacional Executora adequada, CNG provisório está em processo de contratação de uma ONG ou consórcio de ONGs para ajudar a operacionalizar o roadmap de DGM.
"Há uma série de áreas estratégicas que o DGM poderia cobrir. Por exemplo, a promoção de actividades de geração de renda, promoção de produtos florestais não madeireiros (tais como frutos, mel, raízes, etc), agricultura de conservação, entre outras actividades", disse Daniel Maúla, Director da RADEZA (Rede de Organizações para Ambiente e Desenvolvimento Sustentável da Zambézia).
"Estamos muito empenhados para assegurar a participação das mulheres no DGM em Moçambique e para isso gostaríamos que elas estivessem bem representadas no CNG final", disse Pedro Ferreira, da MUGEDE (Mulher Género e Desenvolvimento)
Os participantes também discutiram como Moçambique pode aprender com outros países que estão actualmente em preparação ou na implementação do DGM. Dois eventos, em particular, foram destacados: a participação na Reunião Global do DGM em Kinshasa (25-27 Abril) e uma viagem ao Brasil para intercâmbio sul-sul sobre FIP /DGM a realizar-se em Maio de 2016.
Três representantes do CNG provisório, juntamente com dois membros do CNG do FIP, representantes do Governo e do Sector Privado irão participar neste intercâmbio, que se concentrará sobretudo nos modelos bem-sucedidos de diálogos entre as partes interessadas para o processo de concepção e execução do DGM no Brasil, incluindo os seus mecanismos de tomada de decisão, tipos de actividades elegíveis, o funcionamento dos seus sistemas de financiamento e resultados almejados.
Aproveitando o grande trabalho que tem sido feito até agora, é importante lembrar que, para que o DGM para seja bem-sucedido, o processo deve continuar sendo o mais transparente e inclusivo possível. Porque se bem gerido, o DGM pode ter um impacto transformacional para ajudar a colocar as necessidades das comunidades locais de Moçambique na vanguarda durante a concepção de iniciativas para reduzir o desmatamento e melhorar os meios de subsistência rurais.
É com essa responsabilidade e confiança em mente que continuamos a levar o processo do DGM para a frente.
Comité Nacional de Gestão provisório do DGM de Moçambique